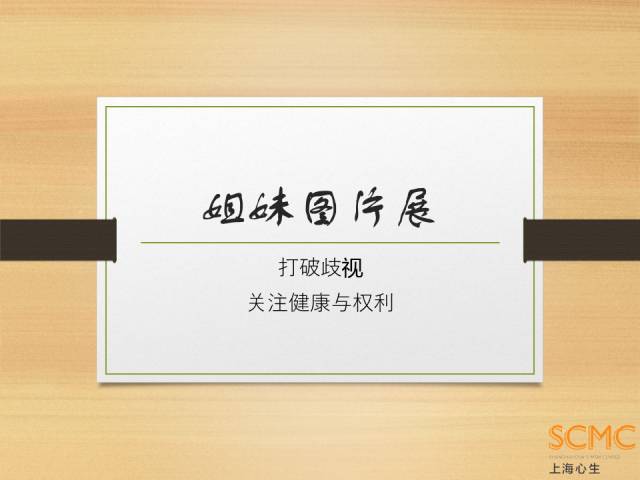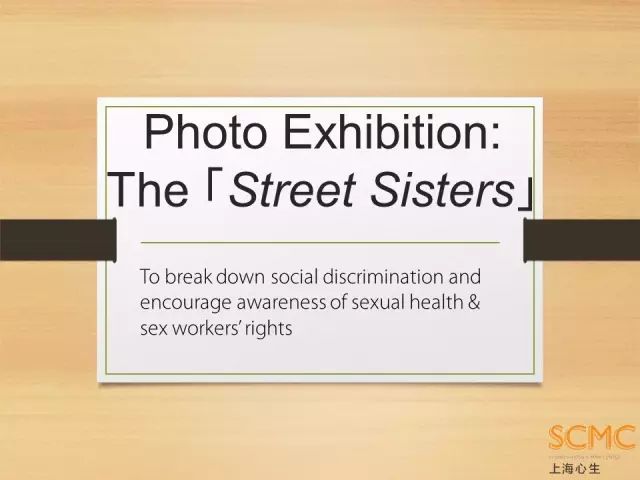 「姐妹图片展」是由上海心生 (Shanghai CSW & MSMCenter)蒙自路268中心担任指导,在笑对人生女性小组 (Laughter Life)、上海心生实习生与上海心生的女性性工作者姐妹的一同合作下完成的独立课题项目。本课题是对上海边缘女性生活健康与权益的调查与探讨,旨在于通过对上海边缘女性群体真实生活的挖掘与展现,打破大众长期以来对边缘女性存有的歧视与刻板印象,宣扬正确的健康与权益观。我们保有自身的独特性,同时尊重他人的选择与自我塑造。
  PhotoExhibition: The 'StreetSisters' (姐妹图片展) is an independent researchproject made by members of Laughter Life group, SCMC interns and SCMC volunteersex worker sisters under the supervision of Shanghai CSW & MSM Center(SCMC) 268 Mengzi Road Center. The project is primarily an investigation intoShanghai underprivileged women sex workers' health, livingcondition and rights. Through the revealing on sex workers' authenticsurviving reality, we aim at the breaking-down of long-existing discriminationand stereotypes in the society and to encourage everyone's awarenessover sexual health and rights issues. We are proud to be who-we-are, and wewill respect different life choices and paths.
关于上海心生SCMC
上海心生SCMC (Shanghai CSW&MSM Center)是一家关注性/别弱势与性/别少数人群权力和健康的非政府、非盈利机构。我们致力于改善性/别弱势与性/别少数人群的生存环境,为之提供较为完善的医疗和法律服务。我们长期与众多学术机构、大众传媒以及其他社会机构合作,为促进性/别弱势与性/别少数人群生存环境的改善而努力。
 About Shanghai CSW & MSM Center (上海心生SCMC)
Shanghai CSW&MSM Center (SCMC) is anon-governmental and non-profit organization focusing on the rights and healthof the vulnerable and minority sexuality groups. We devote ourselves toimproving their survival environment and providing a better medical and legalservice. In addition, we also cooperate with numerous academic institutions, massmedia and other social institutions, and try to do our best to improve thesurvival environment of the vulnerable and minority sexuality groups.
关于笑看人生女性小组
笑对人生是上海心生下属,关注上海地区边缘女性生活、健康与权益的女性小组。笑看人生由女性领导共有九位女性核心成员一起开展工作。自2007年以来,在上海心生的支持与推动下,小组一直致力于上海地区外来流动女性群体的健康关爱与权益倡导。历年来,小组与卫生部、疾控、大学及其他社会组织进行合作,促进本地区外来流动女性人群健康。这些合作包括与卫生部为流动女性人群提供生殖健康检测与治疗和生殖健康知识普及的合作;与学术机构在外来流动女性人群中开展调查与研究,为促进边缘女性人群健康与社会性别平等提供重要的支持的合作。通过这些合作,小组在外来流动女性群体的健康宣传、关爱、促进社会性别平等领域取得卓越成效。
About Laughter Life group (笑对人生女性小组)
Laughter Life group is a women's groupaffiliated with the SCMC, it is committed to the improvement of life, healthand rights of Shanghai underprivileged women sex workers. Laughter Life groupis currently headed by 9 core female members. Since its foundation in 2007,under the support from SCMC, the group has been active in advocating sexualhealth and rights to underprivileged women sex workers around the metropolitanarea of Shanghai City. Over its history, Laughter Life group has been workingclosely with the National Health and Family Planning Commission (国家卫生和计划生育委员会), Chinese Center for Disease Controland Prevention (中国疾病预防控制中心), university research institutions and many others on various sexworker health projects. Major cooperation includes projects of women's healthexamination and education with the National Health and Family PlanningCommission, and support for academic institutions' local fieldinvestigations to improve societal and gender equality. Through our pastexperiences with different organisations, the group has achieved significantlyin the education and support to Shanghai underprivileged women sex workers andthe advance of social equality.
本课题制作团队
本课题是在上海心生负责人郑煌先生与整个团队的监督指导下,由上海心生的4位实习生与笑对人生姐妹合作完成的独立项目。由笑对人生姐妹阿珍、谭姐、青姐等人在实习生章雯佳、肖筱笛与张浩然的协助下展开调查与摄影录制,实习生章雯佳与肖筱笛负责完成后期与拟稿,并由实习生杨涛负责翻译与整理。同时,本课题的制作完成要极大程度上感谢于全球性工作者网络 (NSWP, Global Network of Sex Work Projects)和亚太性工作者网络 (APNSW, Asia PacificNetwork of Sex Workers)组织的协助与宣传。本课题的照片与视频从姐妹自己的角度诠释了上海流动女性对于生活、工作及未来的态度,期望能在国内外产生一定的积极社会影响,推动社会平等与进步。
Our project team
The makers of the projects are the SCMC volunteer sex worker sisters and 4 SCMC interns under the supervision of Mr.Huang Zheng 郑煌 from SCMC with all his colleagues. Beneath our team work, fieldinvestigation and photography are individually credited to sister A Zhen 阿珍, Tan Jie 谭姐 and Qing Jie 青姐 under the assistance of internsCeline Xiao 肖筱笛, Mercy Zhang 章雯佳 and Harry Zhang 张浩然. Following that, media content editing and description composingare also conducted by intern Celine and Mercy. Finally, translation andproofreading process would be the work efforts of SCMC intern Tao Yang 杨涛 at a later stage. Furthermore, wewould also like to express our thanks for the great help and support from theGlobal Network of Sex Worker Projects (NSWP) and the Asia Pacific Network ofSex Workers (APNSW) during the production. The photo and video clips made inthis project are authentic stories told from the sex workers' ownperspectives, about their life, job, and hopes. We wish this project could be apositive impact to all, and to contribute to the betterment of a society forall.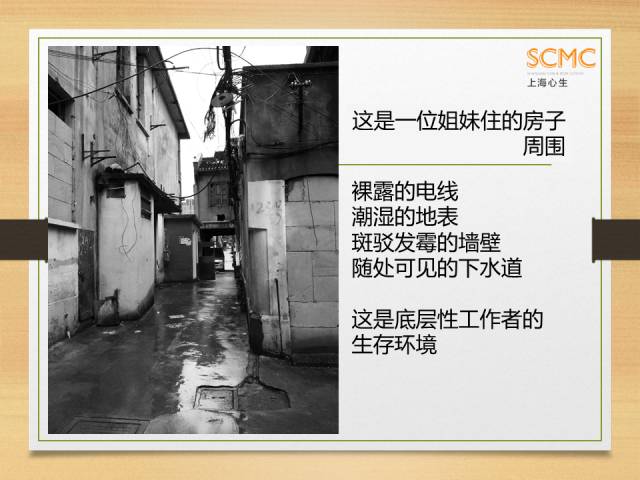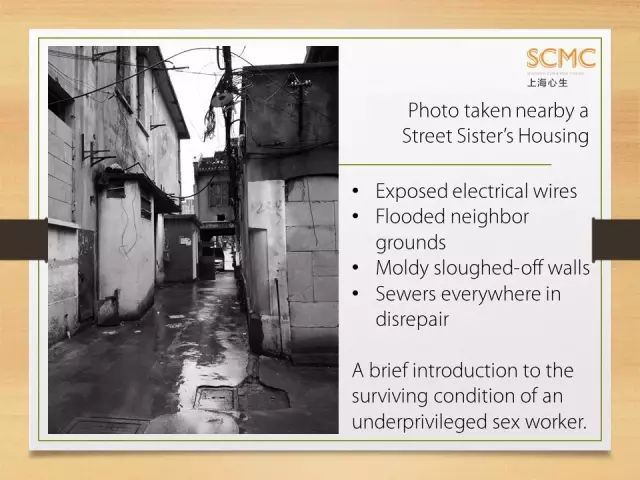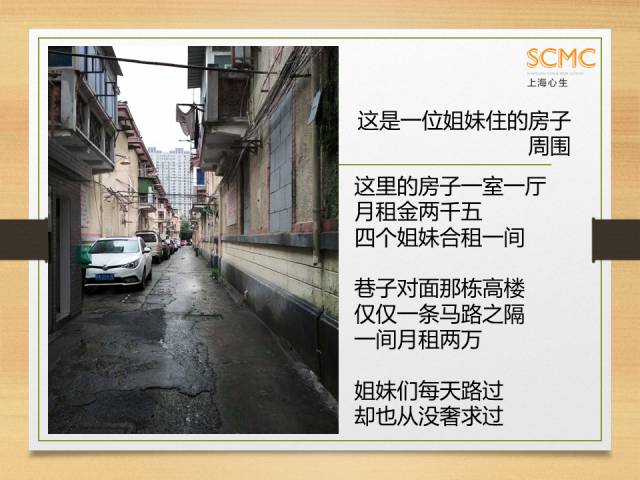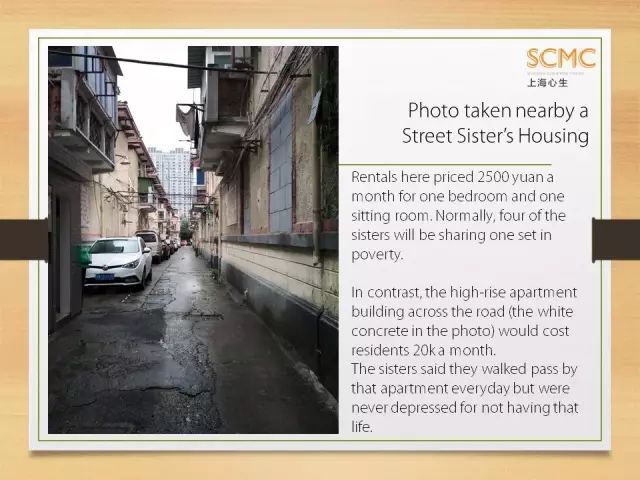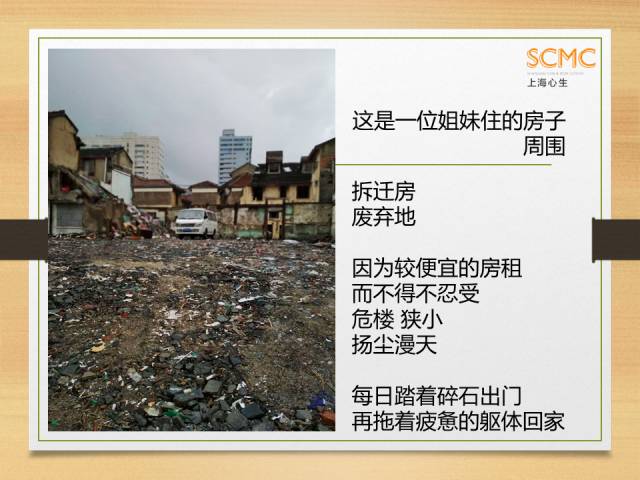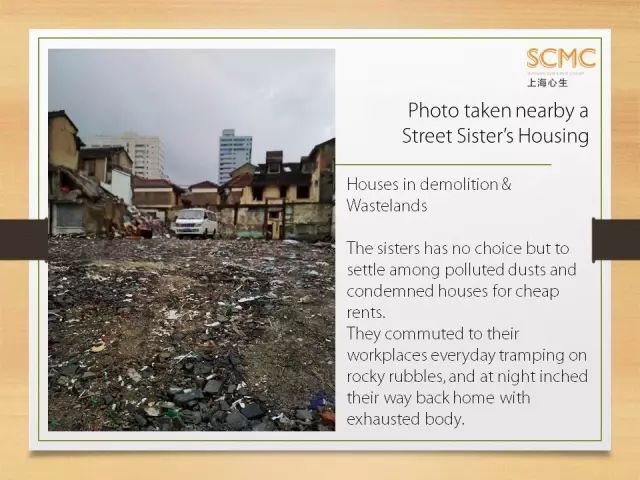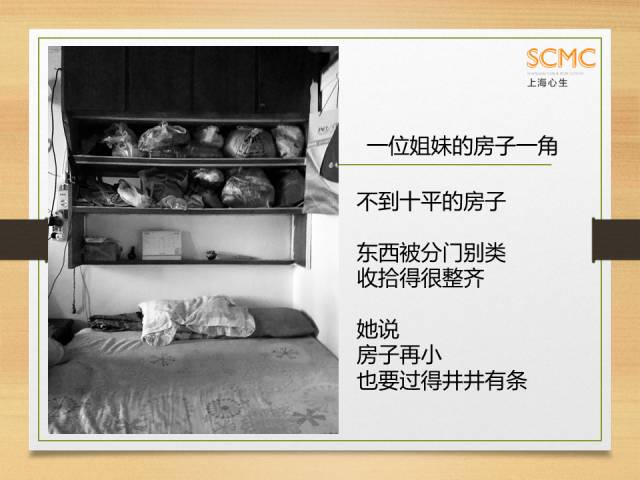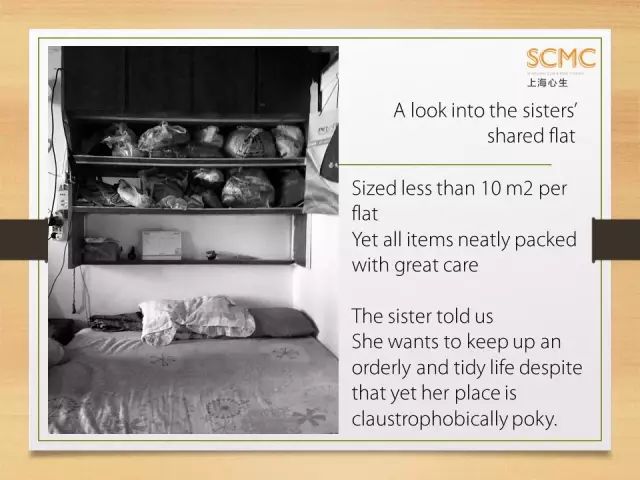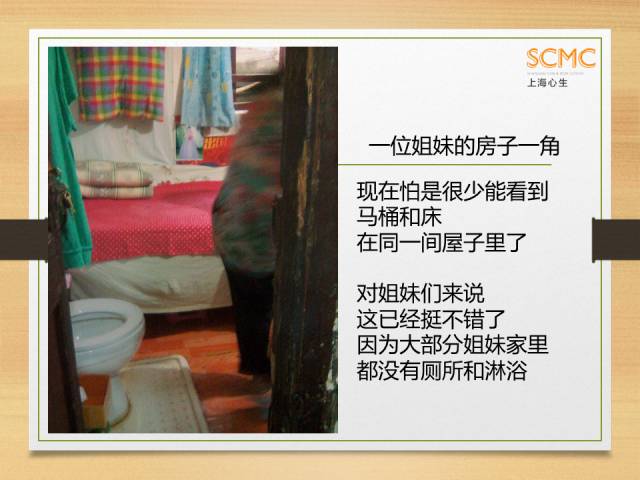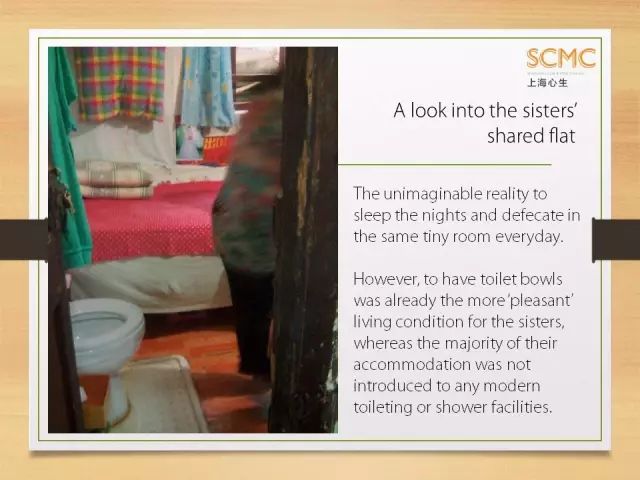 敬待系列(二)